In our salon, manicure for men is a classic treatment of the highest quality.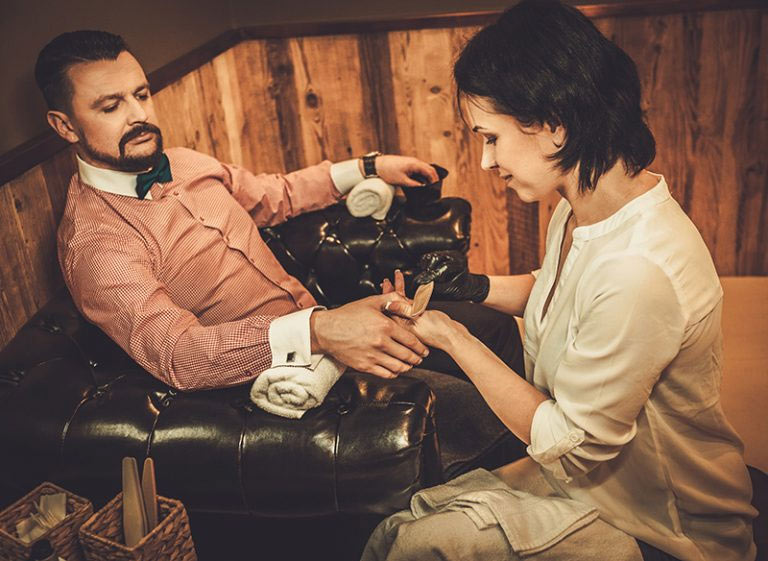 Our team takes care of Your hands 🙂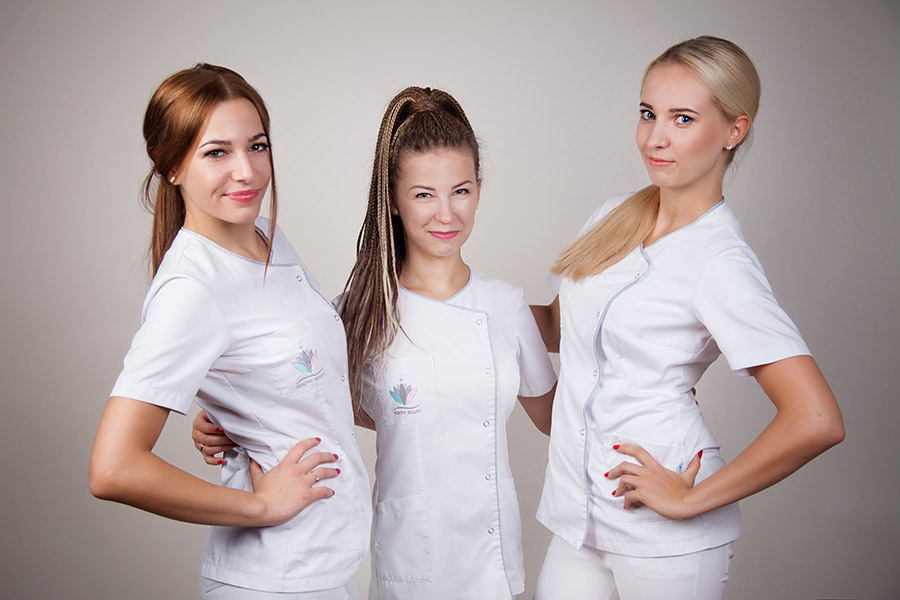 A little bit about manicure for men – facts and myths
Browsing one of the Warsaw online forums, I read a post by a gentleman named Damian. He described his stressful situation at work, the cause of which was … bitten nails. He was looking for the right place for a manicure treatment but couldn't find anything interesting. He asked for help. In response you could find traditional advice (brush it with bitter gel or put your hand in pepper), disbelief (but how do men bite their nails?), attempts to pick him up (drop by my place, I will give you a manicure!), Unfortunately, there was little specific information about how can he effectively take care of his hands.
A real man cares for his hands
It is true. A real man takes care of himself and his hands are his business card. The trend for beautiful well-groomed hands and nails is slowly ceasing to be just a trend and is becoming the norm, which is very pleasing. Proper hand and nail care is not only a matter of aesthetics but also of health. Regularly trimmed nails do not break and do not grow into the skin. Appropriate hand washing and moisturizing preparations ensure that the skin maintains an optimal balance, does not dry out, does not crack. It is very important especially for those men who work in difficult conditions and are exposed to changing weather or chemical factors.
Man and manicure – myths and facts
At Healthy Beauty, we like to meet the needs of our clients – so we have prepared a special offer dedicated to men, including comprehensive treatments of manicure and pedicure. Unfortunately, many myths and misunderstandings have arisen around those beauty treatments. That is why today we will try to dispel men's doubts once and for all!
MYTH 1: Manicure is a very painful procedure.
FACT: A properly qualified specialist with good equipment will not hurt the client. Trimming nails does not hurt, moving away ingrown cuticles also isn't a painful procedure.
MYTH 2: The manicure takes a long time and I don't have time to spend the whole day at the beauty salon.
FACT: The male version of the manicure doesn't last as long as that of women. This is due to the simple fact: men have harder nail cuticles and thicker hand skin. The long time women spend at the beautician is due to the fact that they most often order gel nails. For men, these treatments are not needed.
MYTH 3: A real man doesn't get a manicure!
FACT: A real man does whatever he thinks is right. Taking care of himself is an expression of responsibility and class that few real men have today.
MYTH 4: Beauty salons do not offer treatments for men.
FACT: More and more beauty salons offer treatments for their male clients. All you have to do is show up in Healthy Beauty to find out.
MYTH 5: Manicure is jus an unnecessary hassle. You can simply cut your nails yourself.
FACT:  Self-trimming of nails is the basis of care, while manicure is not just cutting nails. It is also the removal of cuticles, proper shaping of the nail so that it doesn't grow into the skin- this hurts a lot and then requires the intervention of a surgeon. A hand massage is also performed during the manicure. We also offer a special program for fragile and brittle nails – IBX system preparations that penetrate deeply into the nail plate and strengthen it from the inside, repairing damage, creating a protective coating on the nails, so they are not brittle and don't crack.
Mr. Damian and his nails – an epilogue
In conclusion, I want to tell you how the story of Mr. Damian, who was looking for help on the online forum, ended. I offered him a free consultation thanks to which he could get to know our offer and take advantage of it. Mr. Damian assured us that from now on he would recommend our salon. And we also recommend it to every man who wants to have beautiful and well-groomed hands :).