The stylization of the eye area consists of tinting eyebrows and eyelashes, and the shaping of eyebrows with the help of wax or tweezers.
We are aware that eyebrows are an extremely important element of the face, giving the features a harmony and personality. Therefore, we put emphasis on the proper and careful performance of these seemingly simple beauty treatments.
We do tinting using the excellent quality of classic gel henna. Thanks to it, we can highlight, darken and correct the shape of the eyebrows and make the eyelashes more expressive.
Thanks to henna, we can give up everyday makeup of eyebrows and eyelashes! It is an excellent alternative for people who can't or don't like applying makeup.
Are you allergic or hypersensitive to classic henna?
We offer henna based on plant ingredients, without the use of an oxidizer. The treatment is just as successful and the effect is long-lasting as in the case of classic gel henna!
The dye stays on the eyebrows/lashes for about 2 weeks. It can last much longer, although it is an individual matter.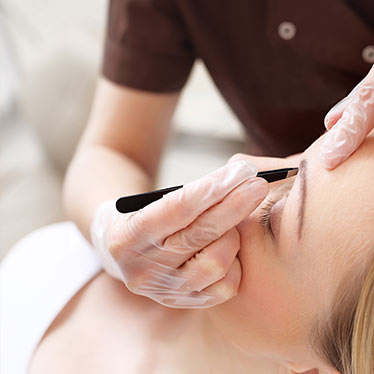 Do you want to make an appointment for the eyebrow tinting or shaping? Our treatments are performed very carefully and accurately. You're welcome to contact us.