Blackheads removal Warsaw - clean and healthy skin
Real effects and lots of satisfied customers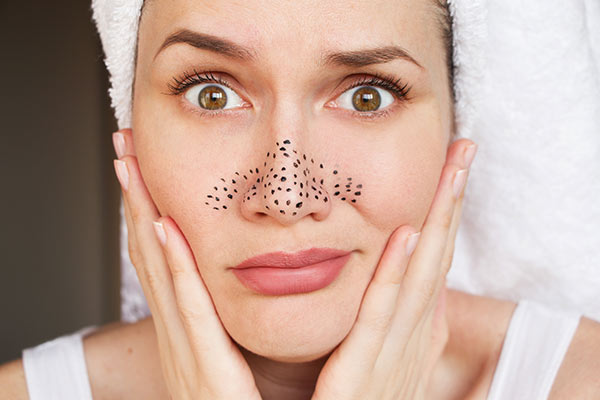 Why is our facial cleansing treatment so effective:
We only use methods that work in removing blackheads – we clean the skin manually, maintaining hygiene and sterility at the highest level.
You will receive a free consultation with a cosmetologist – it includes an analysis of your skin, cosmetics you use for home care and the development of an action plan.
We clean our faces perfectly and are not afraid to say so proudly – see the opinions and above all- the effects of our work.
Blackheads are the nightmare of many people, especially with seborrheic skin or with a tendency to be oily. However, it turns out that people with dry skin can also face the problem of blackheads. This beauty drawback can significantly affect a person's well-being.
The classic procedure involving squeezing blackheads does not necessarily work, because in this way we will not clean the skin thoroughly. There are still visible pores in the skin of the face, so the simple home remedies will not have a lasting effect. The aesthetic aspect of such activities leaves much to be desired ... In addition, permanent makeup, depilation, laser hair removal or improper face care have an adverse effect on the skin with problems. Instead of removing changes on your own, it is wise to use the professional services offered by cosmetology or aesthetic medicine. We offer the highest quality facial cleansing services in the Healthy Beauty salon.
Where and how to get rid of blackheads
Blackheads are skin products that resemble dots in the pores of the skin. They appear on combination & oily skin, most often on the face, back and cleavage. They appear when it comes to:
improper peeling of the skin from dead cells (corneocytes),
excessive production of sebum,
disruptions in the multiplication process of skin cells.
Skin changes can take two different forms. Open blackheads may appear on our face, which can be noticed as brown or black spots. The second type is closed skin changes that "don't come out" but can only be seen through the skin. Both types require appropriate treatment. Skin eruptions that arise then require longer specialist treatment so that scars do not appear on our face or body over time. You need to perform the appropriate body and face treatments that modern aesthetic medicine and cosmetology offer us. It should be added that the price of the cleansing treatment is affordable for every person, and when choosing a package we have prepared special promotions too.
Appropriate skin care under the guidance of a professional is the most effective and safest way to remove blackheads. If your skin changes make you sleepless, make sure to visit our salon. All you have to do is come to our location – Warsaw Wola and place yourself in the hands of professional cosmetologists.
Which specialized type of care supports the removal of acne discoloration and other skin changes? The offer is very rich … and here is what Healthy Beauty offers its clients:
Aesthetic medicine uses acid peelings (chemical peels)
Lactic acid cleansing treatment - will deal with bacteria by eliminating inflammation. The skin will be deeply moisturized, cleaned of excess sebum, impurities and dead skin cells. This acid is antibacterial, and also normalizes the production of sebum. Regular peeling with lactic acid is an effective treatment for blackheads. It is also used in the lifting type of treatment, where the skin is tightened.
Salicylic acid also has a sebostatic effect, which includes fighting p. acnes bacteria, responsible for the formation of acne lesions. It strongly cleanses the face, moisturizes and regulates sebaceous glands. The skin becomes matte, thoroughly cleaned but not dried.
In summer, we offer you a peeling with the use of mandelic acid. It is gentle on the skin, but effective due to its chemical structure. Mandelic acid has antibacterial, sebostatic effect, normalizes the work of skin glands, cleanses and moisturizes. The skin becomes smooth and brightened.
An interesting option is the cavitation peeling, which uses the effect of ultrasound, which when connected with an aqueous solution and pressure changes cause detachment of dead cells in the skin. It is ideal for delicate skin.
Diamond microdermabrasion – the treatment is ideal for fighting blackheads, it involves removing dead cells and cleansing the pores. Everything is associated with abrasion and removal of upper skin layers.
Microeedling mesotherapy – this treatment involves injecting the skin with medicinal substances that have a beneficial effect on its condition and structure. Perfectly removes wrinkles and stimulates the exfoliation process.
Skin defects may often cause our physical and mental condition to deteriorate. Fortunately, in the era of aesthetic medicine, you don't have to "reconcile" with shortcomings you don't like. Removing acne is now very simple and quick. The methods used are not as expensive as similar treatment a few years ago, so now we don't need to "stare" idly in the mirror … we can fight for our appearance and well-being. When contacting us, don't forget to ask about promotions for packages of treatments and a possibility of a free treatment.